Once again, Ashleigh Burroughs comes to the rescue of those who are sports deprived, who are untutored in the ways of the round orange ball, who are uninterested on their own but who would like to participate, even if only peripherally, in the conversation.
These few bits of information should keep you comfortably in the conversation, without taxing your brain very much at all.
*****
Out of the millions of humans who completed brackets on ESPN's website, none are perfect after the first round.
None. No one made all the right choices. Warren Buffet's offer of $1,000,000 to any of his employees who had a perfect score sheet at the end of the tournament is moot.
*****
Neither Arizona nor Michigan State nor West Virginia made it out of the first round.
Was Wichita State really an 11 seed? Where is Mid Tennessee State? Does anyone else know that Stephen F. Austin was a teacher's college when it was founded in Nagodoches, Texas in 1923? Does anyone else care?
*****
I, naturally, put my heart above my head and had Arizona going to the Elite Eight; I really did expect them to show up and play on Thursday evening.
Unfortunately, Wichita State had something to prove, having to play in the Round of Four, held before the actual tournament began. The core of their team had been sidelined for most of the season with injuries; they were certainly healthy as they stomped my Wildcats. Watching the seniors walk off the court for the last time was heart wrenching, but without a point guard they were toast.
*****
I liked watching the smart kids play ball during the Yale/Duke match up.
It made me smile to hear the Eli's taunting the Blue Devils with shouts of
safety school.
*****
The players have looked like babies for years, ever since Big Cuter graduated from college. When he began to notice their youthful miens, I began to recognize that the coaches were also getting younger and younger.
Nothing like a bit of perspective to put me in my place.
*****
And, saving the best for last, we come to the Indiana Hoosiers. Little Cuter and SIR and FlapJilly have all put their team in the winner's circle, and, right now, that doesn't look all that unlikely. They have to get past North Carolina, but I have confidence in their ability to push Intrepid Cat's Tarheels out of the way.
The best part of this tournament is the familial rivalries it engenders. Those big state schools attracted my kid and my brother's kids and now we get to revel in the reflected glory. Tuition never smelled as sweet.
*****
These are Yogi Ferrell's sisters, making a point for themselves as Yogi led his Hoosiers to victory.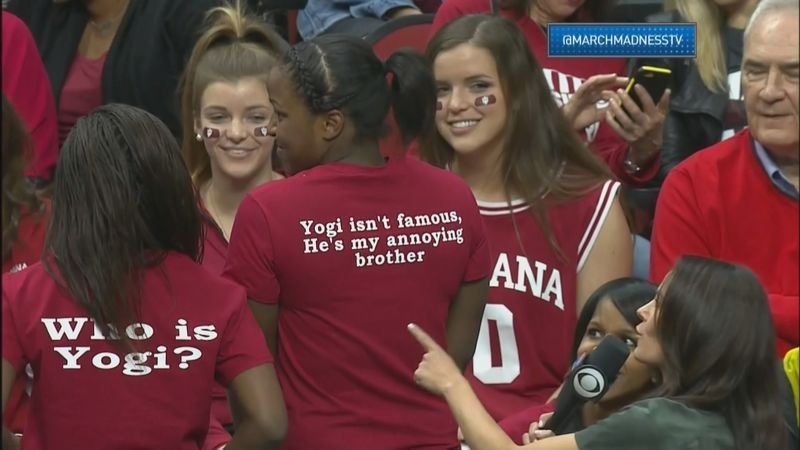 Little Cuter loved the verbiage, as did, I am sure, all little sisters everywhere. Family. It's all about family. That's why I have saved hard copies of our NCAA tournament picks going back to the 1990's. It's our history, and it makes us smile.
*****
This should hold you through the week. I'll update you when the games resume on Thursday, for the Sweet Sixteen and the Elite Eight over the weekend.