Allow me to vent my spleen. I've already called my Senators about the Kurds (apparently, Sen. McSally has no opinion on her President leaving our comrades-in-arms in the lurch) and the House bills on gun safety, and on impeachment..... and it's only Tuesday afternoon.
So, I'm moving on to freedom of speech, if you don't mind indulging my rant.
I began the day fuming over the fact that the Democrats are seriously considering shielding the whistleblowers' names from their Republican counterparts. What have we come to as a country when fear that the President's rhetoric will inspire violence causes one half of a Committee to distrust the other to that extent?
Are they over-reacting? Consider the fact that Dr. Christine Blasey Ford moved four times..... for her own safety.
A friend of Little Cuter's called out flagrant cheating in an SAT exam room. There are still those who harbor ill-will toward this righteous young woman for outing her peers. How much easier everything would have been had her name been kept out of it. Her identity didn't add anything to the case; her experience would certainly chill any further revelations.
I spent the morning stewing over this, then Big Cuter led me to Daryl Morey's tweet -
Fight for Freedom. Stand with Hong Kong -
which led to China severing all ties to the NBA, which led the NBA to issue this tweet -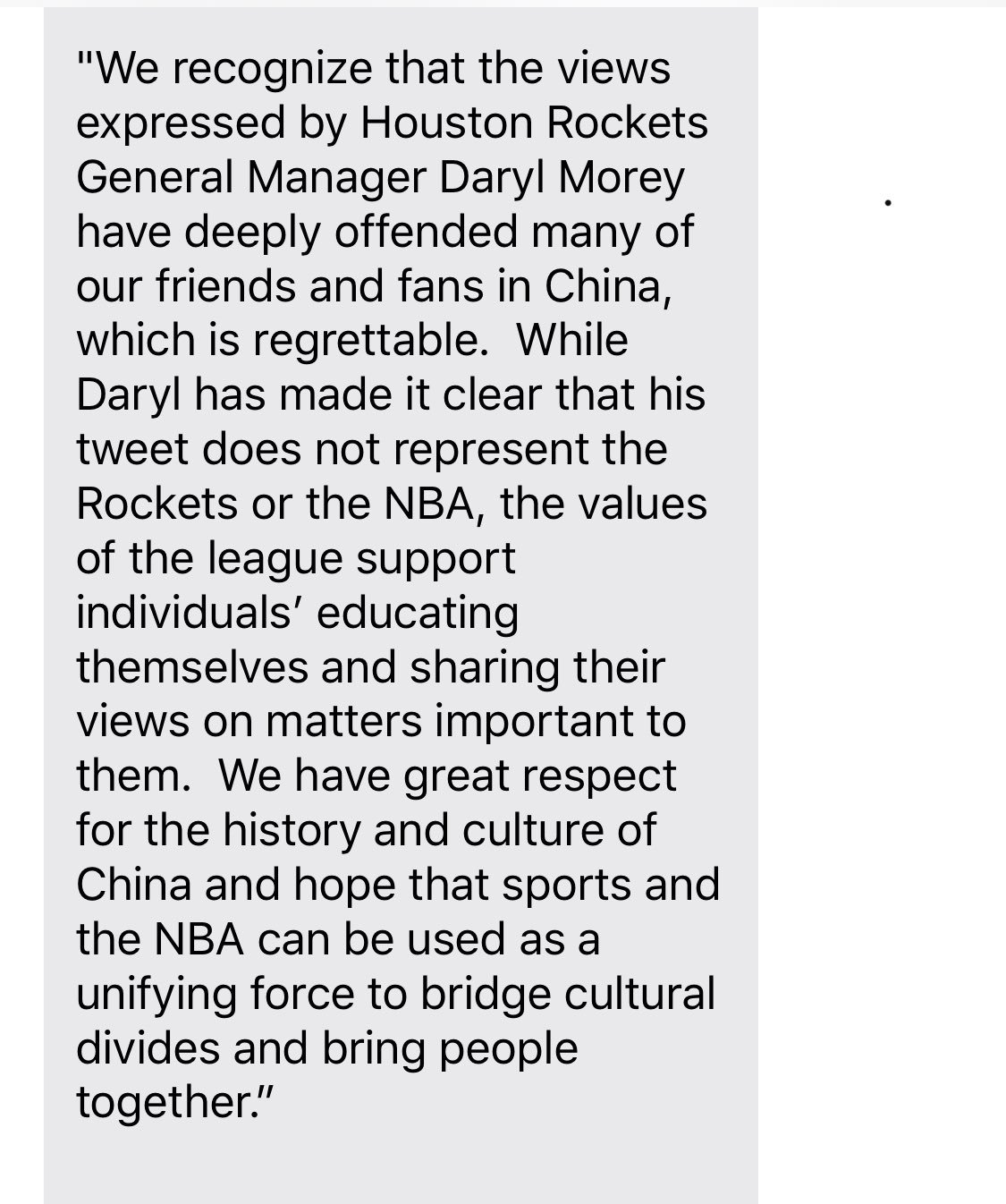 which led my son, along with a variety of interwebs typists, to wonder why the NBA and the Rockets cannot support people who are resisting the imposition of Chinese will.
But that's not the point.


The Chinese are pulling away from the NBA because one of its employees exercised his right of free speech. I'm glad that "the values of the league support individuals' educating themselves and sharing their views on matters important to them," but I wish that sentence had ended with a reminder that these rights are enshrined in our Bill of Rights, that free speech is a hallmark of our side of the cultural divide, and that no amount of money can sway our dedication to defending it.
Yes, it's billions of dollars.
It's also a statement to the world.
Today, more than ever, that is needed. The NBA could be out in front on this..... or, not.
And that's where this post ended until Big Cuter alerted me to another situation, this one heating up the parts of the interwebs where those younger and hipper than I lurk.
A
fter a Hong Kong based esports player voiced support for the protesters -
Liberate Hong Kong, revolution of our age! - the
sponsoring firm, Blizzard Enterprises,
barred him from competing for a year and zeroed out his account, effectively taking back the $10,000 he had already won.
There's that pesky First Amendment again, butting in where it's not wanted.
A quick scan of the links show a generally peeved audience, suddenly questioning the woke-ness of their world. It seems that they are clothed in the same cloak of faux righteousness as the NBA.
Who'd a thunk it?